You can enjoy diving without any experiences in the past.
What is Trial Diving?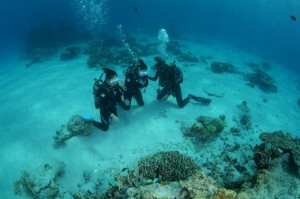 You can enjoy diving with instructor even if you don't have C-card.
You can experience marvelous feelings of breathing in the ocean, anacatesthesia, and being like fishes. Trial diving is the best choice to the people who are not satisfied with snorkeling, and who want to know the feeling of diving because you can enjoy ocean more and more.
You don't have to be good at swimming. You dive. Not swim. So it has nothing to do with swimming skill. If you are afraid of the ocean, we kindly lead you to the ocean.
If you dive at beautiful clear ocean with a lot of fishes in Kerama islands, we guarantee that you are enthusiastic about the world of diving.
Schedule
Fill out the application form at our shop
Change to swimsuit and move to Huruzamami Beach (5 min)
Lecture at the beach (how to use equipments)
Equip and move to water edge.
Practice breathing at shoal. After you get used to water, go into the ocean.
Enjoy beautiful coral, fishes in the ocean. (30 mim) (maximum depth 5 m / 15 ft)
Go back to our shopYou can stay at the beach after trial diving.
・Trial diving normally takes place at the Huruzamami Beach, but it's possible to do at the boat if sea condition is fine.
・Trial diving takes only 2 hours, so you can participate after whale watching or day trip.
・For safety purpose, we provide an instructor per two customers.
Requirement
Good health (above Jr. Highschool student)

We can't accept people who are not in good condition or under drinking.

Swimsuit

We let you use wet suit, so you can wear any kinds of swimsuit.

towel

You can take shower at our shop after you are done.

Underwater camera

You can bring with you. It's also sold at 105 store.
Price